In the modern era, technology has become the backbone of almost every industry whether it is marketing, accounting, service or information technology. The knowledge of Microsoft courses is one of the basic requirement for any type of job and it is widely used by delegates in their personal and professional world.
Explore the advanced Microsoft technologies:
Microsoft SQL: It helps in managing data safely and efficiently by using its sophisticated tools.
Microsoft Exchange: Deliver information securely through an efficient messaging system across the enterprise
Microsoft Lync: It provides flexible communication solutions at work. It enhances team communication with messaging, online meetings and video calling. Lync is can be used for working easily together.
Microsoft Azure: It supports enterprise cloud application deployment as well as hosting through a well-equipped infrastructure.
Microsoft SharePoint: It helps in organizing and collaborating documents.
Windows Server: The Windows series server operating systems are developed by Microsoft. It is used to manage corporate networking, internet hosting, intranet hosting and enterprise level messaging.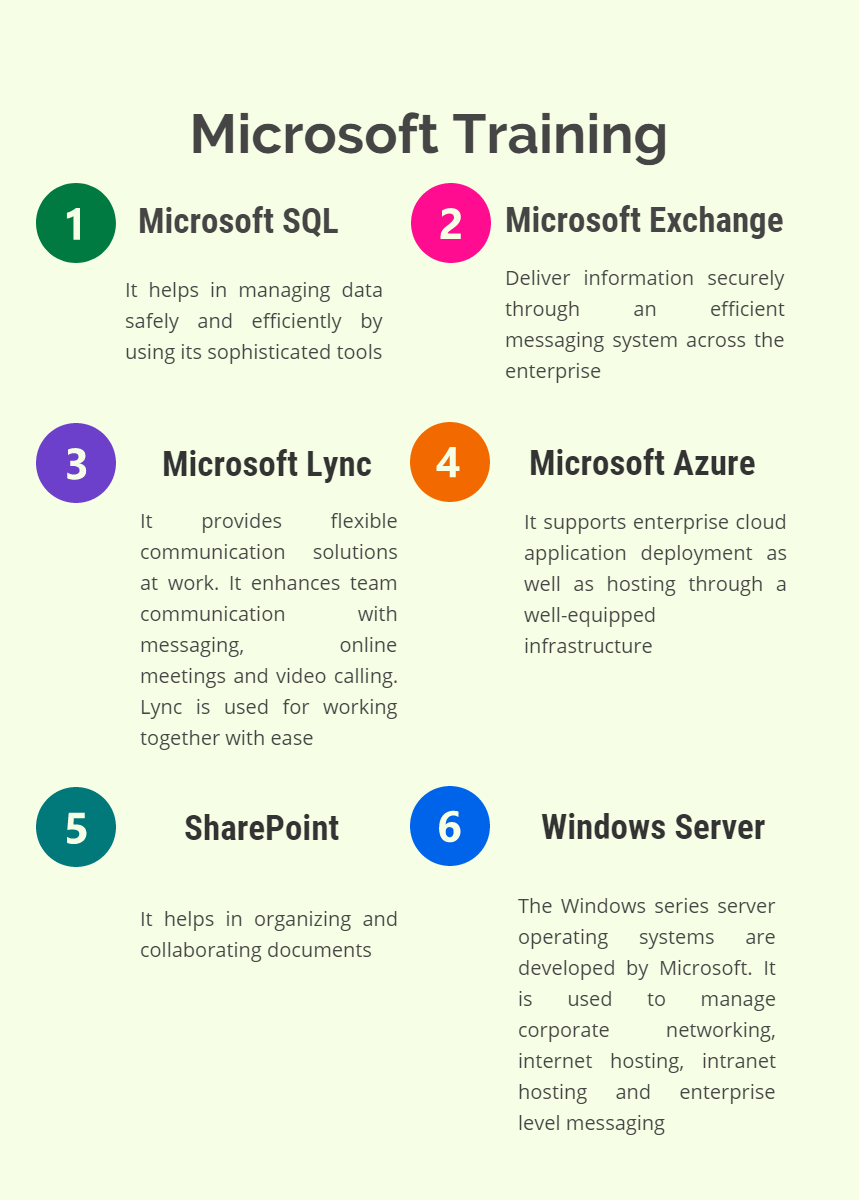 Why should I do Microsoft Training Courses?
As we are using Microsoft products in the accomplishment of our day to day professional and personal activities. Microsoft Training courses are intended for those delegates who want to develop and enhance their skills and knowledge to become more productive while using Microsoft technologies. Certification for these courses provides us with an opportunity for our career development and become skillful in good stead. The courses help in attaining more productivity and making use of its sophisticated tools and skills required in the working environment. The delegates will completely understand the latest technologies of Microsoft software like Azure, SQL, Lync and Windows Server.
Benefits of taking MS Training courses
With the knowledge of Microsoft Training courses, the delegates gain proficiency in using various Microsoft Products. This course enables the delegates to acquire knowledge about essential tools and methodologies of Microsoft. The certifications of Microsoft courses have become world famous in every sector whether it is information technology, service, retail, and infrastructure etc. Other benefits of acquiring the knowledge of these courses involve career advancement and make you and your team more productive and efficient. After completion of the Microsoft courses, the delegates will be competent enough to perform simple and complicated tasks assigned to them effectively. The certifications will help in enhancing their value and become an asset to the organization. Obviously, their chances of getting hired by the new organizations and better incentives and perks will also increase by gaining the knowledge and certifications.
Why choose MSP Training?
MSP Training makes sure that their certified and experienced trainers help the delegates to understand the latest concepts and terminologies used in the training. The Microsoft Training courses are specifically designed according to the current market and industry requirements. This helps the delegates in acquiring the skills with a better standard of satisfaction. We offer training programs as per your requirement like classroom, online and onsite training. Our well-trained support team feels more than happy to handle your queries and resolve within time. Come, grasp and become professional, this is the right place for you.