MSP Training provides Risk Management courses that comprise MoR® Foundation and Practitioner, MoR® Foundation, MoR® Practitioner Upgrade and MoR® Re-Registration courses. Almost every decision made in the organisation involves the certain element of risk. Risk Management provides a comprehensive approach to the delegates to manage risk within their organisation. The course is specifically designed for risk managers, business change managers, project and program managers and other managers who are responsible for identifying, planning and handling risk management activities across the organisations. The course introduces delegates to the MoR® principles and processes required to shape and influence risk management across an organisation.
Risks can occur in the organisations from various sources that include project failures, credit risks, uncertainty in financial markets, natural disasters, uncertain events and unpredictable root cause. With the continuous increase of business risks, it becomes crucial for the organisation to implement some sort of formal risk management system. The MoR® courses help the delegates to face the risks occurred in the organisations and provides the knowledge about the tools and techniques to overcome the risks effectively and systematically.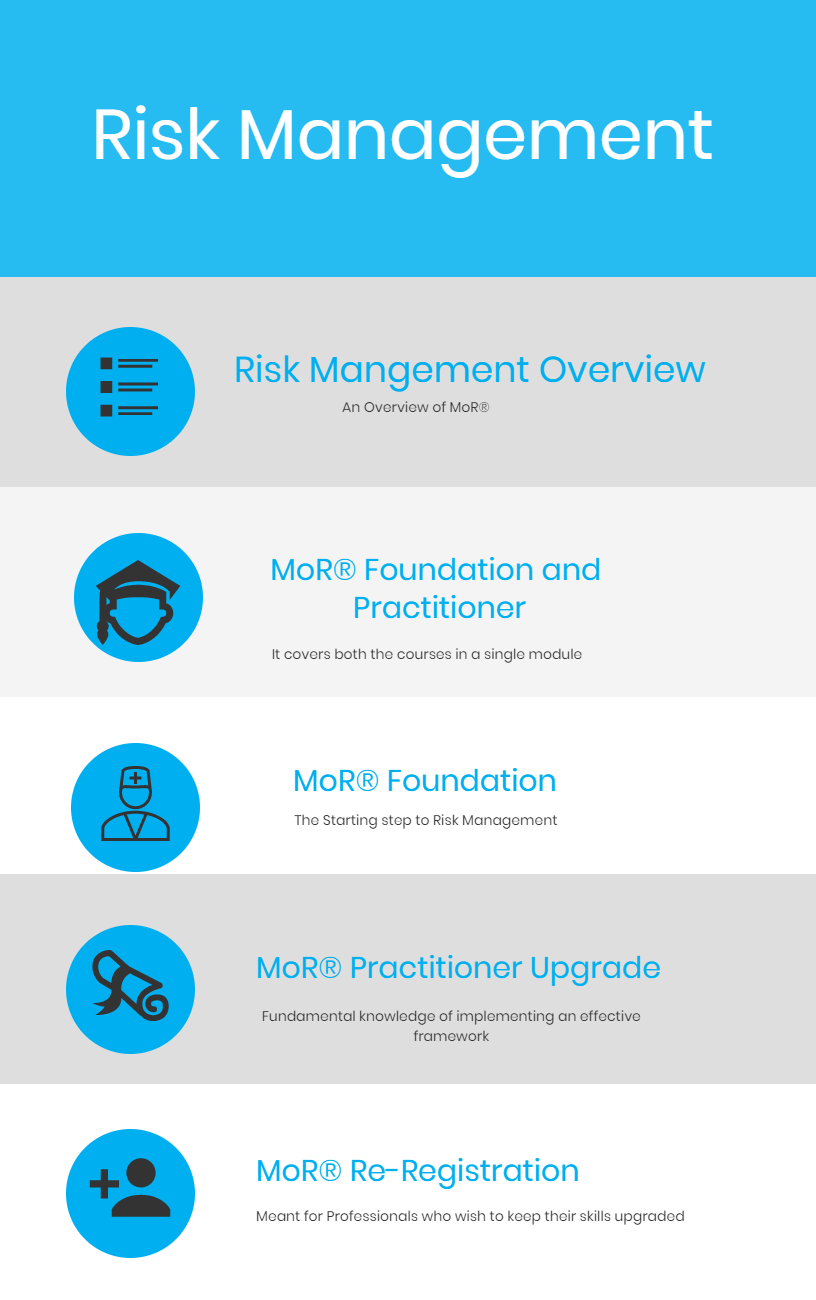 Why Should I take this course?
Risk management has become part of everyone's life and it is important to the success of every business. All organisations public or private, large or small need competent, highly qualified and skilled people to manage the risks. The operational staff and managers need to implement an effective risk management program within their organisation and develop strategic business and financial plans. The MoR® courses enable the delegates to diversify and manage risks at every turn and provide knowledge about different tools and techniques used for the identification, evaluation and management of risks within the organisation or project.
Why Choose MSP Training?
MSP Training ensures that their well trained and highly experienced instructors help you to understand the latest concepts, principles, processes and perspectives of Risk Management. The course helps the delegates in acquiring the skills with a better standard of satisfaction. We offer a flexible mode of training programs as per your requirement such as classroom, online and onsite training courses. Our well-trained support team feels more than happy to handle your queries and resolve within time. Our certified and experienced trainers make the training program more valuable by giving real-world examples to the delegates and build long-lasting relationships with our customers.