Business Skills
In an organisation, it is important to know about the skills (and be proficient in them as well) that can affect the progress of the organisation. Some of the skills that one can start with are listed below: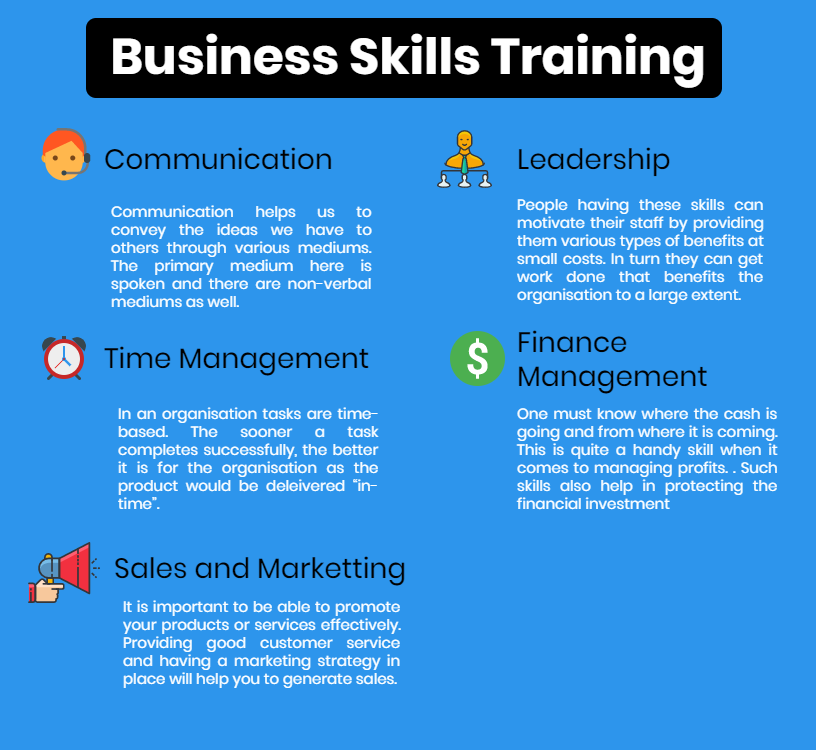 One most important skill an individual needs to possess in an organisation is managing finances. One must know where the cash is going and from where it is coming. This is quite a handy skill when it comes to managing profits. Such skills also help in protecting the financial investment as one is familiar with cash flow that is taking place.
Marketing, sales and customer service
It is important to be able to promote your products or services effectively. Providing good customer service and having a marketing strategy in place will help you to generate sales.
Communicating and negotiating
One skill that every individual – even a non-professional - must have is communication. Communication helps us to convey the ideas we have to others through various mediums. The primary medium here is spoken and there are non-verbal mediums as well.
It is communication that helps us to negotiate with the people we meet in our daily life. They could be our clients, suppliers, stakeholders, shareholders, managers, employees, employers and anybody else even. No communication means no negotiation which further may lead to losses also.
It is very necessary for the individuals in an organisation to have leadership skills. People having these skills can motivate their staff by providing them various types of benefits at small costs. In turn, they can get work done that benefits the organisation to a large extent. People with such skills also know how to manage time for the allocated jobs.
Time management is an important task that is required of the professionals seeking out high-level jobs. Those who have this ability can easily climb up the management ladder. In an organisation tasks are time-based. The sooner a task completes successfully, the better it is for the organisation as the product would be delivered "in-time". This makes the clients happy who then spread a good word of mouth which is essential for any organisation.