Overview of ITIL® 2011 Edition
Information Technology Infrastructure Library (ITIL®) aims to align IT services with the requirements of the business. ITIL® 2011 is the current form of ITIL®. ITIL® has published a series of five core volumes and each volume is a different phase of the service lifecycle.
ITIL® defines processes, principles, procedure and tasks that are not organisation-specific but can be applied to any organisation for integrating strategy, delivery value by maintaining a minimum level of competency within the organisation. With this, the organisations can establish a baseline through which they plan, implement and measure. It can be used for demonstrating compliance and measuring enhancement.
Features of ITIL® 2011 edition
The ITIL® 2011 edition consists of five core publications such as Service Strategy, Service Design, Service Operation, Service Transition and Continual Service Improvement. There are 26 processes in ITIL® 2011 edition along with the core publications that provide the major context of every process involved.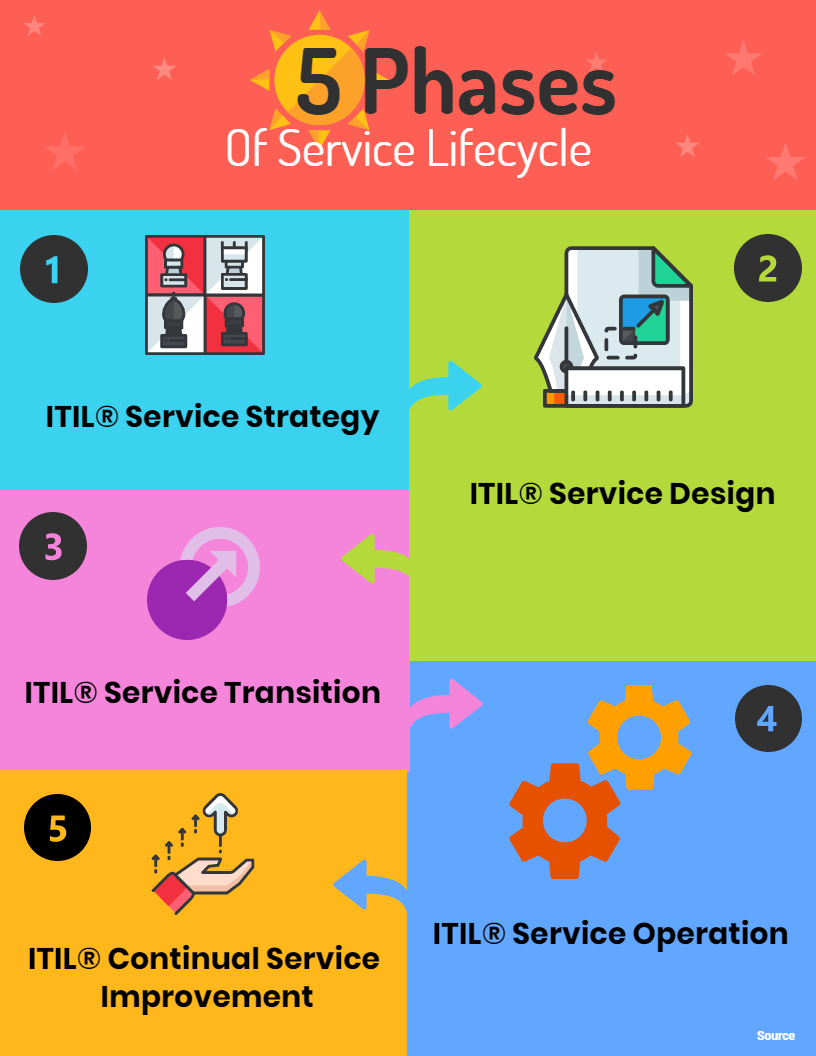 Service Strategy
Service Strategy provides guidance on classification and prioritization of investments of service-provider in organisational services. Its aim is to help organisations to develop and improve over the long term. Being the core of service lifecycle, service strategy determines which IT service is to be offered and what capability need to be implemented.
Service Strategy phase of service lifecycle covers the following processes:
Service Portfolio Management
Financial Management
Demand Management
Strategy Management
Business Relationship Management
Service Design
After strategy, the next step is to design the planned services. Service Design provides guidance on how to make improvements in existing and new designs.
Service Design phase of service lifecycle covers the following processes:
Design coordination
Service catalogue management
Service-level management
Availability management
Capacity management
IT service continuity management
Security management
Supplier management
Service Transition
Service Transition includes building and deploying IT services within the organisation. The aim of the service transition is to make sure that the changes to services are being done in a coordinated way.
Service Transition phase of service lifecycle covers the following processes:
Transition plan
Change management
Service testing and validation
Change evaluation
Knowledge management
Release and deployment management
Service Operation
Service Operation makes sure that IT services are delivered effectively and efficiently. It includes resolving service failures, fulfilling user requests, fixing problems and much more.
Service Operation phase of service lifecycle includes the following processes:
Event Management
Access Management
Request Fulfillment
Problem Management
Incident Management
Service Operations phase of service lifecycle includes the following functions:
Service Desk
Technical Management
Application Management
IT Operations Management
Continual Service Improvement
Continual Service Improvement focuses on continually enhance the IT services and processes.
Following are the improvement initiatives that follow the seven-step process:
Make improvement strategy
Define what to measure
Gather the data
Process the data
Go through the data and information
Present and use the information
Implement improvement