Customer Service Skills
Customer service is defined as the process of maintaining customer satisfaction after the purchase of a product or delivery of service. It plays a crucial role in maintaining long-term client relationships. Customer satisfaction is an extremely important part in the growth of the organisation. For this reason, many companies have shifted their focus towards increasing their customer satisfaction levels. Customer service is the most efficient and fastest way to support your customers and critical to the success of your business.
When you are interviewing for retail or customer service job, a common job interview question 'What is customer service' is being asked in most of the organisations by the managers. Customer service means you need to truly serve each customer efficiently, listening to their wants and concerns carefully and explaining solutions to them accurately. The main goal of the company is to make your customers happy and loyal with your services.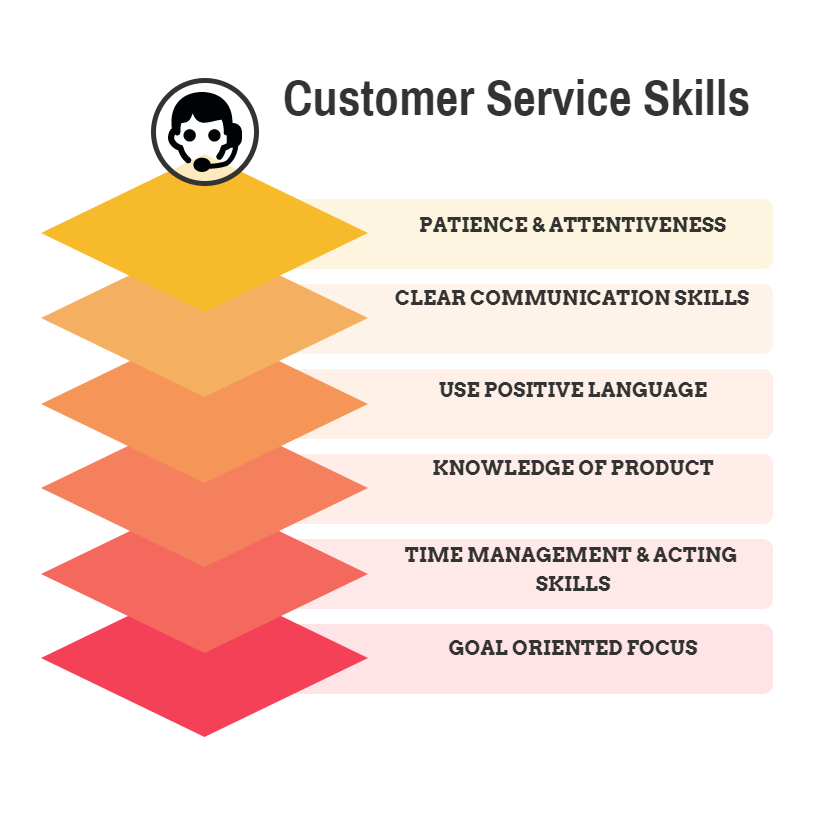 Characteristics of efficient customer services
Customer service is the act of delivering high-quality services and assistance before, during and after the customer's demands and needs are satisfied. It involves the fulfilling of requirements and desires of the customers in most suitable and efficient way. Some characteristics include:
Politeness: Greeting your customer with 'hello, good morning, thank you very much, sir/madam, bye' are important part of good customer service. In case, the customer does not purchase anything, use good manners as it leaves a remarkable impression on your customer's mind.
Personalization: When you use the customer's name in your conversations, they really like the idea that whom they are doing business know them on a personal level. It enhances their loyalty towards you.
Promptness: Your promises and commitment for delivery of any product/service must be on time. Try to avoid the cancellations and delays of the products/services.
Professionalism: Do not try to be overfriendly with your customer, they should be treated in a professional manner. Use your competence or skills while delivering the products.
Key customer service skills
Below is the list of some specific skills that every employee must implement when they interact their customers on a daily basis.
Attentiveness: Listen to your customers very carefully and use customer feedback systems. It becomes very important for the businesses to pay attention to individual customer interactions as well as attentive to their feedback.
Knowledge of the Product: Employees deal with the customers at the front end should have a deep knowledge of the product from front to back and able to resolve their problems efficiently.
Patience: When the frustrated customer approach you, try to stay patient and understand their needs. It is proved again and again that great service dominates fast service every single time.
Time Management Skills: There is a limit on spending time with customers. When you realize that you cannot help the customer, handover the customer to someone who can support them. Do not waste your time and deliver them in an efficient manner.
Persuasion Skills: You should have strong persuasion skills to convince your potential customers as you cannot compel them to buy your company's product.