There are 8 kinds of wastes that an organisation may face. They are described as "DOWNTIME" – an acronym for
D – Defective Processes
O – Overprocessing
W – Waiting Period
N – Non-Used Employee Talent
T – Transport
I – Inventory
M – Motion
E – Excess Production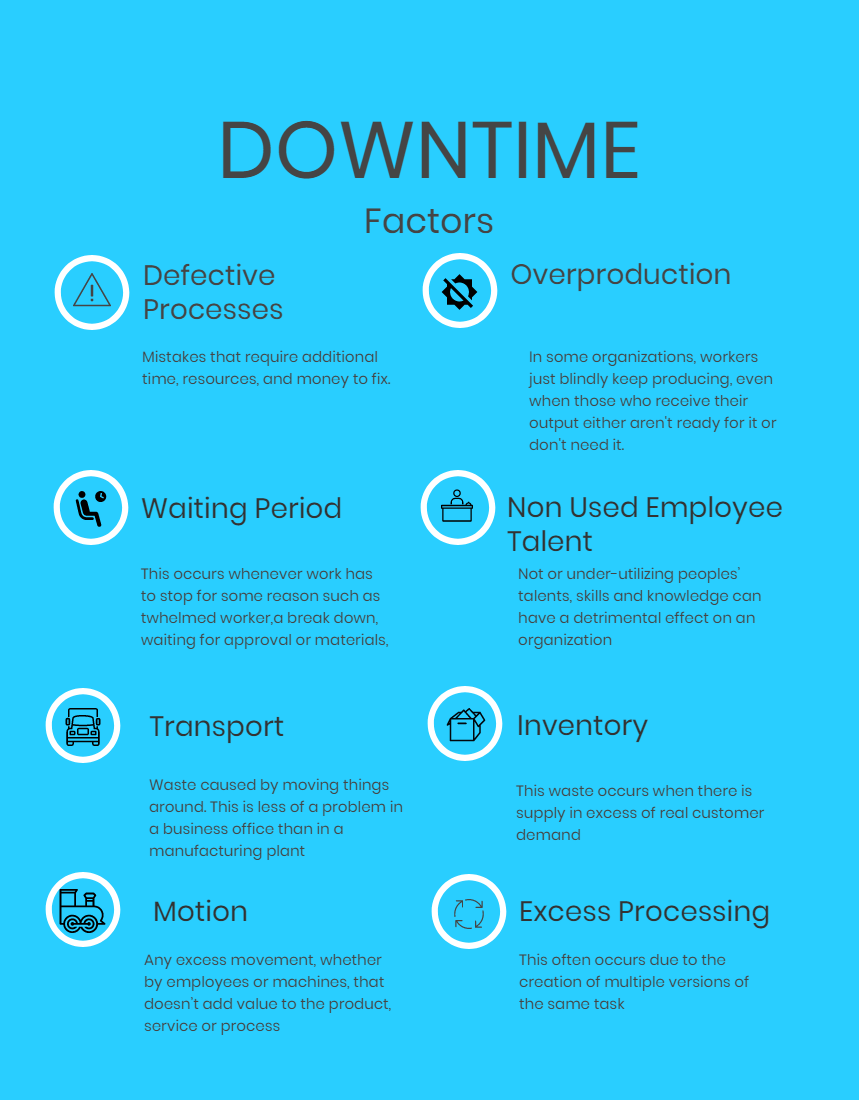 To avoid the problems caused by DOWNTIME, Lean Six Sigma recommends the 5s technique which every Lean Six Sigma professional is familiar with. This 5s technique is made up of the following 5 steps (names provided both in English as well as Japanese)
Sort (Seiri)
Straighten (Seiton)
Shine(Seiso)
Standardise(Seiketsu)
Sustain(Shitsuke)
The first step, Sort, makes work easier as it eliminates the obstacles and reduces the chances of being disturbed with unnecessary items. It also removes unwanted processes or items that are not required in the production phase.
The second step, Straighten, arranges all items in a first cum first serve basis so as to easily select them for use. The third step, Shine, focuses on keeping the workplace clean such that any kind of machinery is not affected. The fourth step, Standardize, selects the best steps to be followed for the production. The last step, Sustain, refers to keeping everything in order and also make sure that standards are implemented.
In any organisation, during the production process, waste is bound to occur. Generally, this can happen as unnecessary steps creeping into the production line or processes executing with varying times. Both ways the production is affected and organisation will go into a loss. Implementation of Lean Six Sigma methods help the organisations out of such conditions. Lean Six Sigma has three levels that professionals can take up starting from the Yellow Belt, into the Green Belt and finally the Black Belt. However, there is a fourth course that is offered by Lean Six Sigma – the Lean Six Sigma Black Belt Upgrade course. This course focuses on professionals who are already Green Belt Professionals and want to upgrade to Black Belt. Unlike the Black Belt course, the Upgrade version for the same does not teach the concepts of Green Belt before going into the Black Belt course.
Exam
A delegate must attempt 100 questions in the Lean Six Sigma Black Belt Upgrade exam. A minimum of 70% marks is required to get the certification. The language of the exam is English. In case the delegates require any other information they will be provided with the same by the examiner just before the exam.